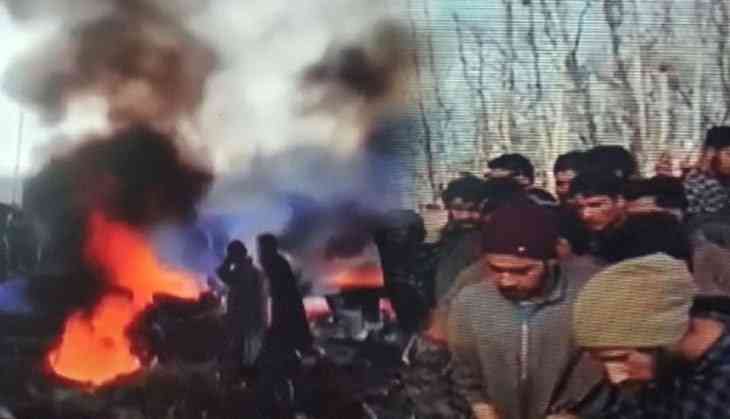 Two people were killed when an Indian Mi-17V-5 transport helicopter crashed Wednesday morning in Indian-administered Kashmir.
Reports said IAF jet crashed at Garend Kalan, some 7 kilometers away from Budgam town at around 10:40 am.
Pakistan's air force shot down two Indian warplanes after they crossed the boundary between the two nuclear-armed rivals in the disputed territory of Kashmir on Wednesday and captured one Indian pilot, a military spokesman said. While on the Indian side airports at Srinagar, Jammu, Leh, Chandigarh, Amritsar and Dehradrun were closed for civilian air traffic, Pakistan has temporarily shutdown airports of Islamabad, Lahore, Faisalabad, Sialkot and Multan for an indefinite period. Both the pilots - Squadron leader Negi and Squadron leader Abrol - of the fighter aircraft had died in the Mirage 2000 crash.
The Pir Panchal mountains separate the Valley from Jammu's Pir Panchal region, where Pakistani planes intruded into Indian space and dropped bombs near military installations.
Security forces have rushed to the spot. The crash comes amid spiraling tensions with Pakistan.
On February 20, one pilot was killed when two Surya Kiran Acrobatic team aircrafts collided mid-air during AeroIndia 2019. "No casualties or damage".
The CAA tweeted that it "has officially closed its airspace until further notice", while a Pakistani military spokesman said the decision had been taken "due to the environment". In retaliation, Pakistan violated ceasefire in a number of places along the LoC. The statement added that India should give peace a chance and resolve issues like a mature democratic nation. The new toll reflects the rising human costs of the escalation of hostilities along the India-Pakistan border.