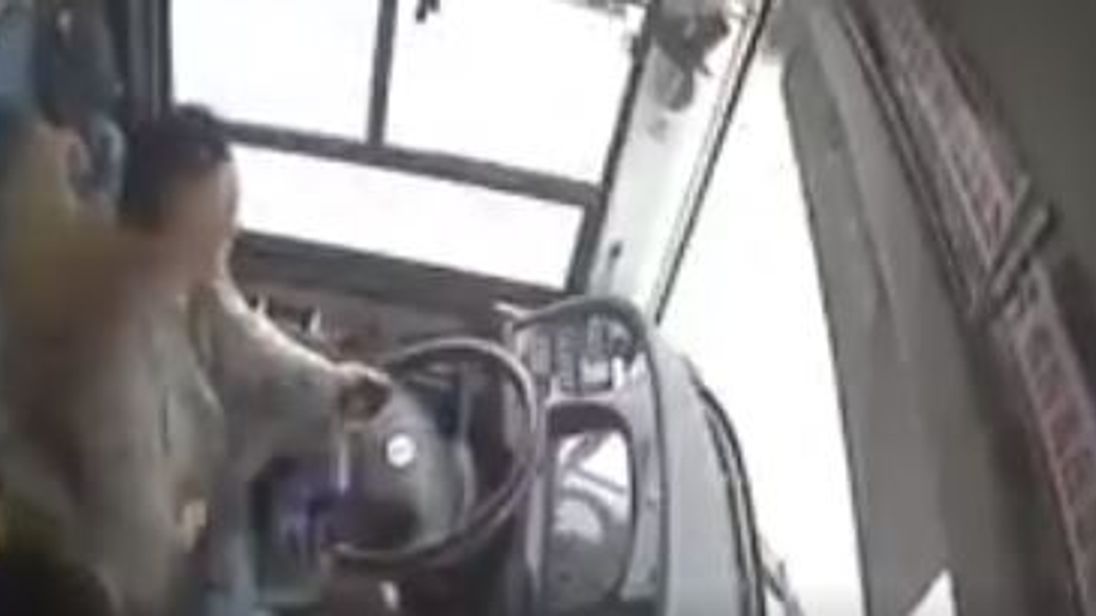 Police released footage from a camera on the bus showing a passenger screaming at the driver and hitting him with her mobile phone.
Shocking footage has been released of the moment a bus veered off a bridge in China, killing at least 13 people.
"The investigation showed that a 48-year-old female passenger, surnamed Liu, planned to get off at a certain stop, but the bus had to make a detour and would not arrive there due to road maintenance", reported China's state-run Xinhua news agency.
During the ensuing fight, the driver lost control and the bus went into the river.
The surveillance recording showed that at 10.03am, five minutes before the accident, the woman stood up from her seat, walked up to driver and began cursing him.
Officials said more than a dozen people were on the bus at the time of the crash.
For days after the accident, the No. 22 bus lay at the bottom of the Yangtze River - in waters more than 70 meters (230 feet) deep.
Dashcam footage from another vehicle shows the bus swerving, colliding with a auto and crashing through a barrier before plunging off the bridge.
A bus is lifted out of the Yangtze River by a floating crane in Wanzhou in southwestern China's Chongqing Municipality.
Thirteen bodies were found after the Sunday night crash, and two people remained missing, Chongqing Police told China Daily Friday morning. The driver, with one hand on the wheel, hits back. Police believe that both Ran and Liu are responsible for the deadly incident since their physical altercation posed a serious threat to public security, violated China's criminal law, and both are being held accountable for causing the tragedy.