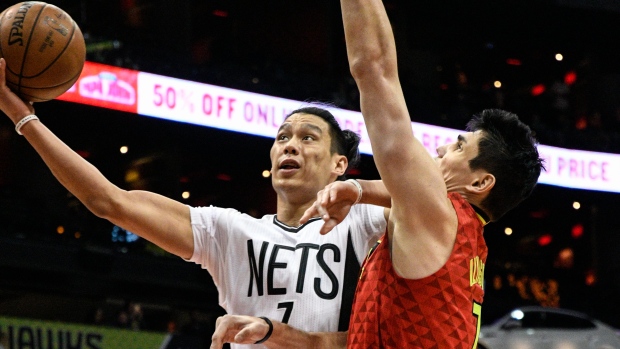 The Brooklyn Nets have traded Jeremy Lin to the Atlanta Hawks. According to the report, the Hawks will send the Nets a 2020 second-round pick originally from Portland and the rights to 2016 second-round pick Isaia Cordinier, who to date has remained in his native France.
The Nets will acquire Kenneth Faried, Darrell Arthur, a protected 2019 first round pick and a future second round pick from the Denver Nuggets.
Lin joins a crowded backcourt in Atlanta with incumbent starter Dennis Schroder and 2018 top draft pick Trae Young on the roster, though the move likely spells the end of Schroder's time in a Hawks uniform if the front office can find a willing trade partner. According to Woj, Atlanta will also receive a 2025 second round pick and the right to swap second round picks in 2023.
The 29-year-old guard is still rehabbing from his injury and told reporters he expects to be ready for training camp in about seven weeks.
In 67 games last season, Schroder averaged a career-best 19.4 points per game, in addition to 6.2 assists and 3.1 rebounds.
Arthur, 30, got in just 30 contests in 2017-18, making one start.
For more sports coverage, visit the ABS-CBN Sports website.